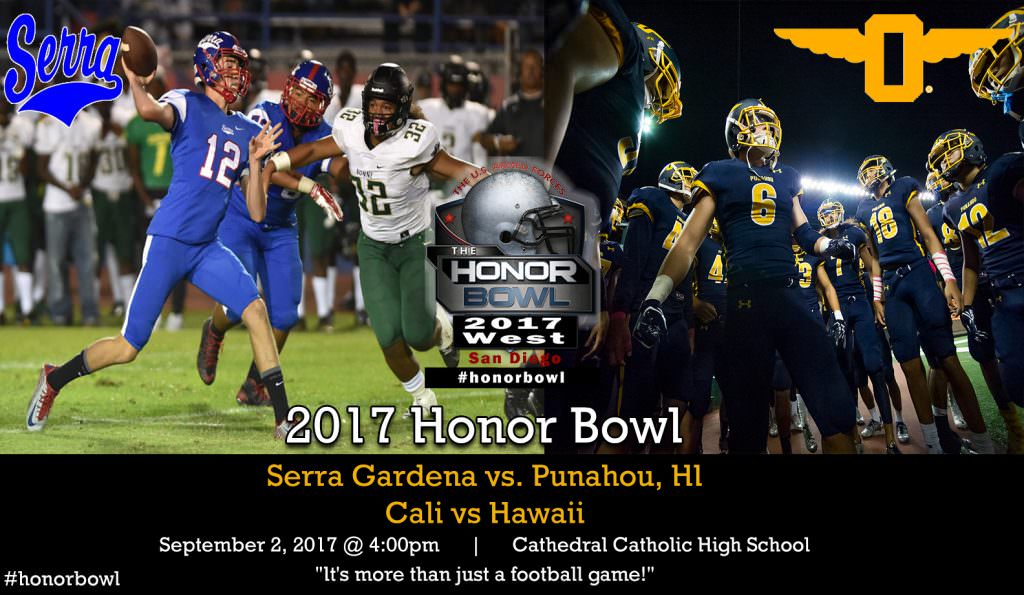 2017 Honor Bowl — Game Four
September 2, 2017 — 4:00pm
Serra Gardena (Gardena, CA) vs. Punahou School (Honolulu, HI)
The Punahou Buff n' Blue (State #3) travel from Oahu and Head Coach Kale Ane and his staff are pleased to be in the 2017 Honor Bowl. This will be the first time that Punahou has played in the Honor Bowl and is excited to be matched up with Serra Gardena. There is a strong alumni that supports the Buff 'N Blue so Cathedral Catholic Manchester Stadium will be ready to handle the fans coming to watch this intriguing California vs Hawaii game.
Serra Gardena (State #24) is no stranger to The Honor Bowl. Head Coach Scott Altenberg has made it clear that he and his Cavaliers want in every year. Serra will have a strong squad ready to play again early in the season. Serra is excited to play their first game vs a team from Hawaii and will man up in what should prove to be a physical match up.