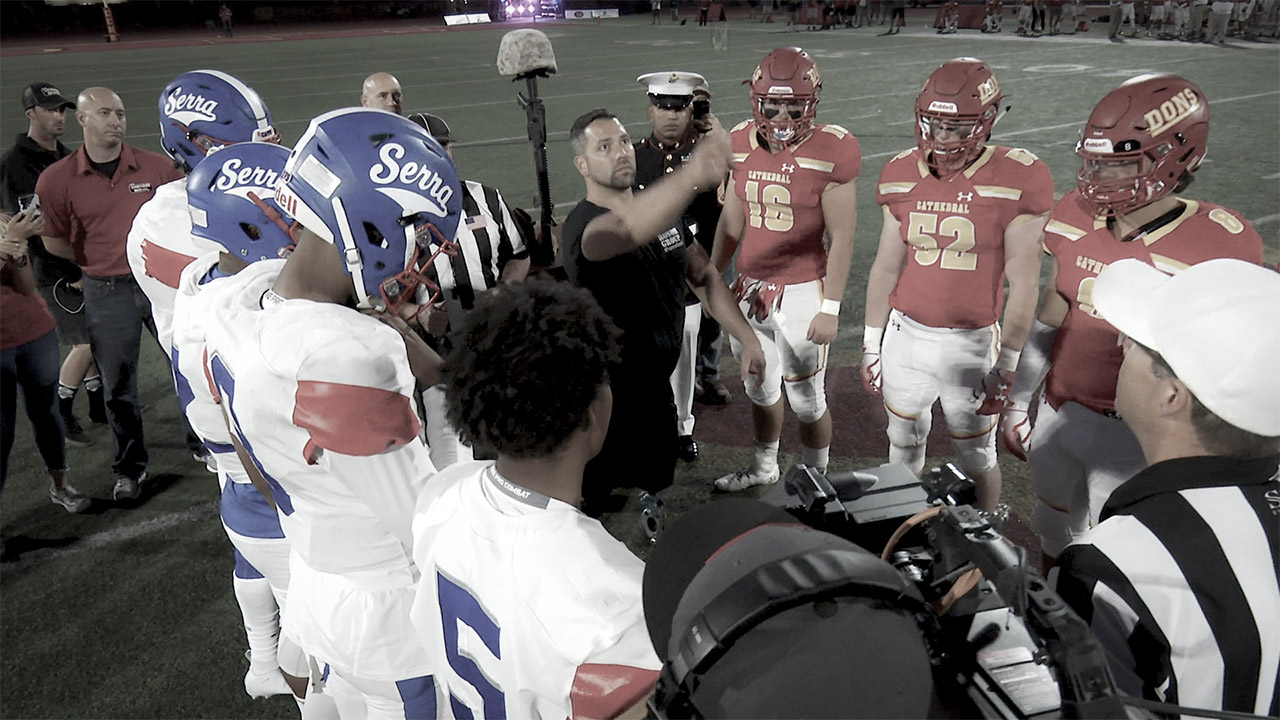 2020 NorCal Honor Bowl Game Matchups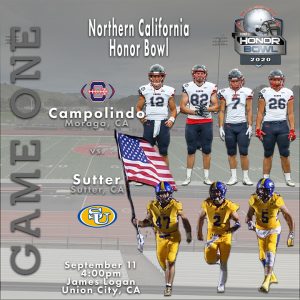 Friday September 11 @ 4:00pm
Campolindo Cougars (Moraga, CA)  vs Sutter Huskies (Sutter, CA)
Butte vs Diablo
Game One of the 2020 Honor Bowl is a small school matchup with two teams that have championships between them and will bring it on Friday. Visiting Sutter has tried to be part of The Honor Bowl for a couple of years and Head Coach Ryan Reynolds jumped to be part of the 2020 Showcase. The Huskies went 12-2 in 2019 and again where the Butte View League Champions and were a finalist in the CIF NS DIII sectional game.  QB Landon Cooper will again lead the Huskies after a Jr. season where is passed for 2072yds and 13TD. RB Daniel Cummings is looking forward to his senior year along with G Kyle Watson wanting to make an impact as well.
Home Team Campolindo will be part of their second Honor Bowl and is up for the challenge. Head Coach Kevin Macy is happy to have another opportunity to support our military as the Cougars continue to do throughout the season. Campolindo has a strong tradition of honoring the troops by participating in activities that involve Navy Seals and fundraise for groups that support veterans. The 2019 season for the Cougars ended as a finalist in the NCS DII and Diablo Valley Champions with a 10-3 record. QBs Jacon Griessel will lead the team and will depend on WRs Maxwell Weaver and Joey Schmidt.
#ButtevsDiablo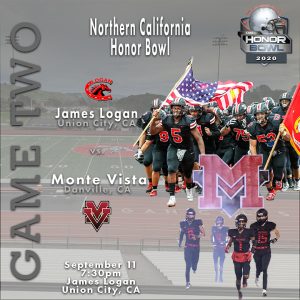 Friday September 11 @ 7:30pm
James Logan Colts (Union City, CA)  vs Monte Vista Mustangs (Danville, CA)
Mission Valley vs Diablo Valley
Game Two of the 2020 Honor Bowl will be a Home game for Host James Logan matched up for the first time vs Monte Vista, a strong program from the Diablo Valley
Visitors Monte Vista has been a team that continues to rebuild and compete in a fiercely competitive league with National powerhouse De La Salle. The Mustangs Head Coach Matt Russi is excited to have his Mustangs be part of the 2020 Honor Bowl for the first time. Monte Vista had an 8-4 record in 2019 and was tied for 2nd in the East Bay Mountain League and a CIF NCS DI semifinalist. The Mustangs look to RB Gavin Cribb to tack on yards and scores along with MLB Josh Zeising to shore up on the defensive side of the ball.
Home Team James Logan is thrilled to be the host for the second time for the 2020 East Bay Honor Bowl and be matched up against Monte Vista for the first time. Head Coach Ricky Rodriguez put a plan together for the 2019 season and his Colts bought in finishing the season with a 9-2 record and Mission Valley League Champions. QB Shamon "V" Duncan-Niusulu will return to lead the Colts in 2020 and look for WR Jeremiah Patterson for aerial attack for the Colts. James Logan will continue to believe in the program that has been led by third-year head coach Rodriguez.
#MissionvsDiabloValley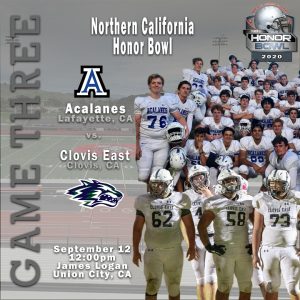 Saturday September 12 @ 12:00pm
Acalanes Dons (Lafayette, CA) vs Clovis East Timberwolves (Clovis, CA)
Bay Area vs Fresno
Game Three of the 2020 Honor Bowl will be a great start of three games on the final day of the two-week showcase.
The Visiting Clovis East Timberwolves will be the first team in The Honor Bowl from the Fresno area! Head Coach Ryan Reynolds has experienced two Honor Bowls when he was DC with Clayton and jumped at the chance to participate as a Head Coach! Clovis East finished 4-7 in '19 and are in the TRAC, one of the toughest leagues in the state! Watch for returning QB Sean Kelly, an athletic and intelligent player. Matthew Mejardo is returning as a Center and a core leader. OLB rising Jr Devin Lopez will play on both sides of the line as a RB. DL Richard Garcia and Brandon Contreras will anchor the D Line.
Home Team Acalanes Dons travel in from Lafayette.  Head Coach Floyd Burnsed will lead his team who finished in a 3-way tie in the tough Diablo Foothill League and made it into the Semifinals in the CIF NCS DIV sections. Returning rising senior QB Brady Hutchinson is looking forward to his senior year after passing for 2,646 yards and 29TDs. RBs Dane Jensen and Nic Rossi will carry the ball and will contribute. On defense, OLB Niko Cortessis (Sr) and DE Joey Carrillo (Sr) will do what they can to stop drives.
#BayAreavsFresno – East Bay and Fresno Battle It Out!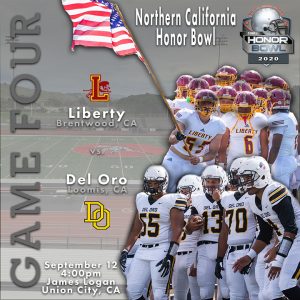 Saturday September 12 @ 4:00pm
Liberty Lions (Brentwood, CA)  vs Del Oro Golden Eagles (Loomis, CA)
NCS vs SFL
Game Four of the 2020 Honor Bowl will be the first time these two programs have met though have a strong history. Head Coach Jeff Walters of Del Oro agreed to this game to play Liberty where he was Head Coach a few years back.
Visiting team Del Oro is pleased to be back in The Honor Bowl once again since their last time in 2018. Head Coach Jeff Walters is one to preach about the importance of playing for a good cause and The Honor Bowl is a great experience and game that helps create a buzz to prepare and play for the veterans. The Golden Eagles want to improve their 6-5 record last year as they play in the tough SFL in Sacramento area. Soph QB Logan Stough and QB DB Ryan Lewis will share the ball and OLB Jacob Birch wants to extend his impact on the defensive side.
Home team Liberty will be in their third Honor Bowl and second at James Logan. Last year's game came down to the final play in OT when Liberty blocked a PAT and beat Clayton Valley. Head Coach Ryan Partridge has a great connection with The Honor Bowl's presenting Sponsor – SF 49ers chose Coach Partridge as their SF Prep Coach of the Year. In 2019 The Lions went 9-2 and ended up in 2nd place in the tough Bay Valley League. Liberty will rebuild now that QB Jay Butterfield has gone off to Oregon. Soph. QB Jaden Rashada will lead his Lions on the Offensive side. LB Colin Borrelli and DT Clemone Kennedy will provide their skills on the defense.
#NCSvsSFL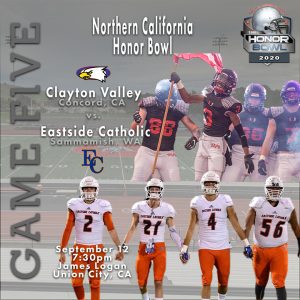 Saturday September 12 @ 7:30pm
Clayton Valley Ugly Eagles (Concord, CA)  vs Eastside Catholic Crusaders (Sammamish, WA)
State Champions – CA vs WA
Game Five, the finale of the 2020 Honor Bowl will pit two State Champions from 2019 together in a great matchup that is a national game of the week!
Visiting Eastside Catholic, traveling from Sammamish, WA is in their third Honor Bowl and will play in the NorCal event for the first time. The Crusaders had an amazing 2019 season where they finished 12-2 and ended in a tough 3A metro league in 2nd place. They went on to beat O'Dea and capture the 3A Section and State Championships. Their season did not end – They competed for the third time in the Geico National – State Championships in Las Vegas. Head Coach Dominic Danste will lead his Crusaders in 2020 with returning QB Logan Mausau (3035yds 33 TDs), WR Zion Scott. DE Jaylahn Tuimoloau (So. – #1 National Recruit in 2021!) along with DL Peter Taoipu
Home team Clayton Valley will be in The Honor Bowl for the third time. Head Coach Tim Murphy thanks us for another opportunity to play in 'one of the best showcases' he has ever been part of! The Ugly Eagles had a 10-5 record in 2019 where they ended up in second place in the tough Western Football League. Then their season continued by becoming CIF-NCS DII Champions, DII NorCal Champions and finishing the season as the CIF D2-AA State Champions. Returning QB Jake Kern (1685yds 12 TDs) will depend on RB Omari Taylor (1428 yds 13TDs) and WR Erik Christoffersen along with MLB Dylan Seeley on the defense side of the ball.
#CalivsWA State Champion Finale