2020 SoCal Honor Bowl Game Matchups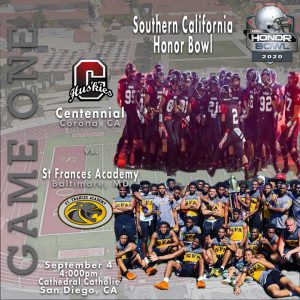 Friday September 4 @ 4:00pm
Centennial (Corona, CA)  vs St. Frances Academy (Baltimore, MD)
National Game of the Week – SoCal vs East Coast
This is a matchup that has national significance. The Honor Bowl is proud to have two high school football programs that want to play the best. There is no doubt that all eyes should and will be on this game played at Cathedral Catholic in San Diego – Centennial vs St Frances Academy.
The visiting St Frances Panthers are traveling from Maryland making their first trip to The Honor Bowl when they face the Huskies in this stellar game. Head Coach Henry Russell jumped at the chance to travel to San Diego and be part of The Honor Bowl and play Centennial. The Panthers are an independent team and play a national schedule and were 11-1 for the 2019 season. Their final rankings were #1 in MD and #3 Nationally. Clinton Burton Jr is one of the top CB in the '21 class and recently committed to Florida. OLB Aaron Willis will fill the middle and announced he will play for Alabama. DT Katron Evans, OLB Jamon Dumas-Johnson and OG Delfin Castillo will be other Panthers to watch in 2021!
Centennial will be back in The Honor Bowl in 2020 and we can't be happier! Head Coach Matt Logan, his staff, athletes, school and community have supported the mission of The Honor Group since 2013. The Huskies were 9-3 in 2019 gaining another Big VIII League banner and final rankings were CA #5 and #20 Nationally. DE Korey Foreman #2 Nation will be a force on defense.  Jake Retzlaff takes over at QB and will rely on WR Brandon Alvarez and WR Julian Nixon. Speedster RB Seven McGee, an Oregon Commit will be a player to watch as well for the Huskies.
#EastvsWest – This game pits two well-coached and athletic teams who compete every week.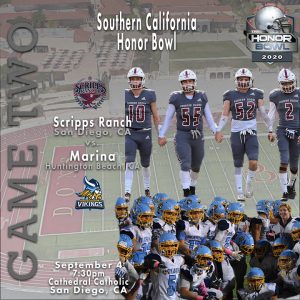 Friday, September 4 @ 7:30pm
Scripps Ranch Falcons (San Diego, CA)  vs Marina Vikings (Huntington Beach, CA)
The Bay vs The Beach

Game Two of the 2020 Honor Bowl is a classic matchup with two teams who have never played each other.
Visiting Marina High School hail from Huntington Beach with Head Coach Jeff Turley jumped to be part of The Honor Bowl when invited. The Vikings wrapped up their 2019 season 12-3 with another Big 4 League crown and made it to the CIF-SS DII finals.  Marina will have a returning double threat QBs Gavin Del Toro and Jack Miller. The backfield will be strong with RB Brantt Riederich along with Dane Brenton as a WR threat along with Darren Vasquez as a TE and DL.
Home Team Scripps Ranch hails from San Diego led by Head Coach Marlon Gardinera and looks forward to being in their first Honor Bowl as well! The Falcons had a great 2019 season with a 12-1 record and gained another City Football League championship banner. The Falcons were CIF-SD DIII finalists and should bring a competitive team for the 2020 season led by QB Luke Durkin who had 2185 yards with 20 TD. RB Nicholas Gardinera (1783 yards 26TD) will be a power back that had a productive junior season. Watch for S Riley Merrigan who led the Falcons in tackles.
#BayvsBeach – Friday Night Lights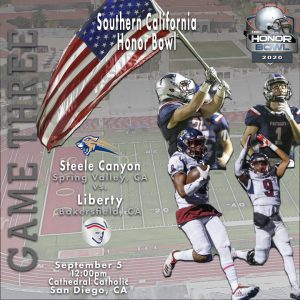 Saturday September 5 @ 12:00pm
Steele Canyon Cougars (Spring Valley, CA)  vs Liberty Patriots (Bakersfield, CA)
San Diego vs Kern
Game Three is another first for The Honor Bowl! The magic of matchups is where teams get a chance to play teams that they rarely or never have played. This is a prime example. Visiting Liberty Patriots were invited to The Honor Bowl and Head Coach Bryan Nixon immediately responded with an emphatic Yes! Liberty hails from Bakersfield, a region that has never been represented in this national showcase. The Patriots were 10-2 and were Southwest Yosemite League Champs as well as CIF CC DI Semi-Finalists. Liberty will have QB Haden Mann who had 1,530 yards with 11 TDs. Both RB Prentice Boone (982 yards, 5 TDs) and WR Jason Oliver should extend their offensive prowess in the 2020 season. ILB Brady Anderson will continue to make stops to help the Patriots on the defensive side.
Home Team Steele Canyon is about 30 minutes from Host Cathedral Catholic High School and will be the HOME team for the third game of the 2020 Honor Bowl. Head Coach Scott Longerbone is excited to have the opportunity to experience why we say The Honor Bowl is 'more than just a football game!' The Cougars were 9-2 in 2019 and are in the tough Grossmont Hills league where they ended up in 2nd. Steele Canyon was in the quarterfinals of the CIF-SD DI sections as well. Returning QB Elia Kirismasi will lead the Cougars in 2020.
#SanDiegovsKern – This will be a tasty game one on the second day of the SoCal 2020 Honor Bowl.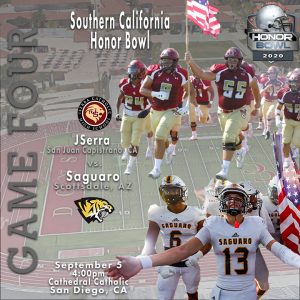 Saturday September 5 @ 4:00pm
JSerra Lions (San Juan Capistrano, CA)  vs Saguaro Sabercats (Scottsdale, AZ)
Battle of the Cats – SoCal vs Arizona
Game Four in the 2020 Honor Bowl pits two teams that return to the Showcase. Visiting Saguaro will experience its third Honor Bowl. Led by storied and successful Head Coach Jason Mohns loves the energy and the experiences that this event provides along with a great game. The Sabercats had an amazing 2019 season with an 11-2 record with another Desert Sky League crown that led up to the first Arizona Open playoff where they came close to pulling out a victory over Chandler. The Sabercats will rebuild a roster that graduated 19 DI seniors. QB Ridge Docekal will lead the offense that also has a stellar WR Denzel Burke adding to his career stats. On the other side of the ball will have DE Quintin Somerville, NG Alani Maafu, and DE-DT Darrion Dalton putting the hits on defense.
JSerra Lions will travel once more to Cathedral Catholic for their second invite to The Honor Bowl. Head Coach Pat Harlow is always chanting "Prepare, Compete, Win" as he leads the Lions into his 5th year at JSerra where the Lions are part of the bruising Trinity League wherein 2019 their record is deceiving at 6-5 but finished ranked 13 in California! Returning QB General Booty will continue his passing stats of 2019 with 1,032 yards to RB Samuel Green and WR Earnest McDaniel. The strong defense will have returners FS New Zealand Williams,  MLB Jaden Genova and DT Siale Suliafu.
#BattleoftheCats – Game Four will be a game that will one not to miss!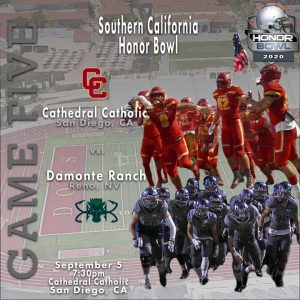 Saturday September 5 @ 7:30pm
Cathedral Catholic Dons (San Diego, CA)  vs Damonte Ranch Mustangs (Reno, NV)
SoCal vs Nevada
Game Five, the finale of the SoCal Honor Bowl, is a Cali vs Nevada matchup for the first time! The visiting Mustangs will bring a strong team to San Diego to play the Dons for the third time! This will be Damonte Ranch's second appearance in The Honor Bowl but for the first time in SoCal. Head Coach Shawn Dupris loves that this game worked out for both the school's schedule. Most important, Coach Dupris looks forward to what the event represents and provides to the athletes, coaches, and school. The Mustangs were 11-2 in 2019 and again the Northern – Sierra League Champions. Damonte Ranch was the NIAA 4A Northern Sectional Finalist and will be led by QB Ethan Kulpin who had 1,921 yards with 16 TDs. The backfield will be blazing with rising Junior RB Ashton Hayes who rushed for 2,356 yards and 32 TDs. WR Nick Vargas had 11 TDs with 912 receiving yards. On the defense side, DG Ethan Kulpin had 119 tackles and MLB Carson Smith led the Mustangs with 147 tackles.
Home team and Host School Cathedral Catholic Dons will field a strong team behind Head Coach Sean Doyle. The Dons are a well prepared and coached team that ended their 2019 season as 8-3 Western Football League Champions. A new era will begin with QB Charlie Mirer, a rising junior to lead the Dons. RB Christian Hall and WR Colman Smith should generate offensive stats and MLB Lukas Otineru and FS Malachi Williams will put in the stops on the defensive side of the ball.
#SoCalvsReno – This game will be a compelling finale with the Home Crowd of Cathedral Catholic!