2019 Honor Bowl
Cathedral Catholic High School
August 31, 2019
Game One: Notre Dame (Sherman Oaks), CA vs Desert Vista (Phoenix), AZ
Game Two: JSerra (San Juan Capistrano), CA vs St. Joseph Regional (Montvale), NJ
Game Three: Cathedral Catholic (san diego), CA vs Saguaro (scottsdale), AZ
James Logan High School
September 7, 2019
game one: amador valley (Pleasanton), CA vs Campolindo (Moraga), ca
Game Two: James Logan (union city), CA vs heritage (brentwood), CA
Game Three: Liberty (brentwood), CA vs clayton valley (Concord), CA



Back-to-back SoCal / NorCal Honor Bowl Showcases.
In 2019, there will be back to back Honor Bowl events. August 31 will be the day that three outstanding games will be played once again at Cathedral Catholic High School in San Diego, CA. The following weekend James Logan High School in Union City will be the home of the first ever NorCal East Bay Honor Bowl. This year's Honor Bowl will have 6 teams that have been involved with prior Honor Bowls which is a true testament that schools appreciate the educational impact that they receive while competing in the events. We take pride in the intriguing game match-ups for The Honor Bowl.
This will be the third time that Cathedral Catholic will host The Honor Bowl at Manchester Stadium in beautiful Del Mar Heights of San Diego. The fans, parents and community have embraced our event with passion and love. This matches our belief that the event is noteworthy and consistent with the true motto that The Honor Bowl is 'more than just a football game!"
James Logan High School in Union City will host the first NorCal East Bay Honor Bowl. The facility is set up a great event and we look forward to our first time in this military-centric community.
For the third time, the San Francisco 49ers will be the presenting sponsor for The Honor Bowl. This is important for us to have the NorCal Honor Bowl right in the back yard of the 49ers and we look forward to having a strong presence from the team, front office and fans that follow our collective passion to educate athletes, coaches and communities about the needs of our military.
SoCal Honor Bowl
San Diego, CA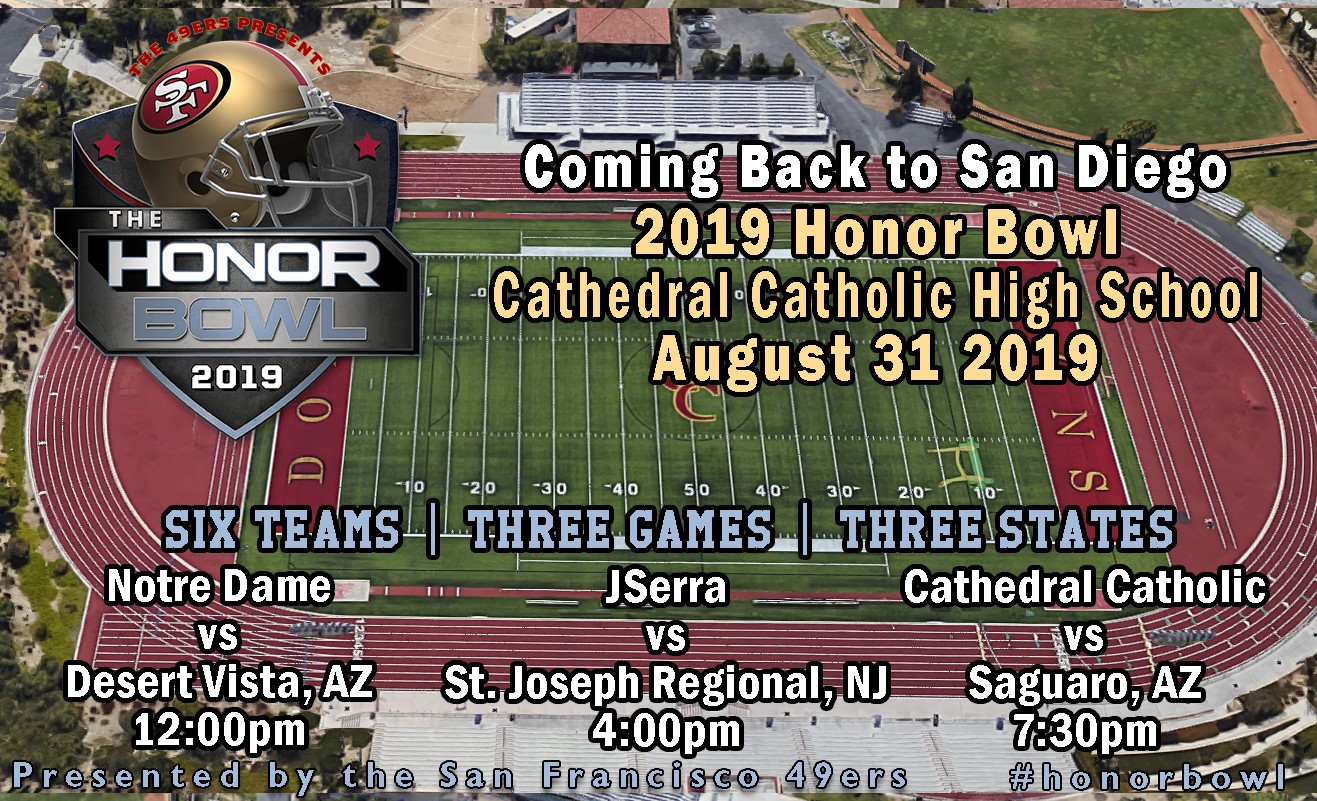 NorCal Honor Bowl
Union City, CA
Camp Pendleton Experience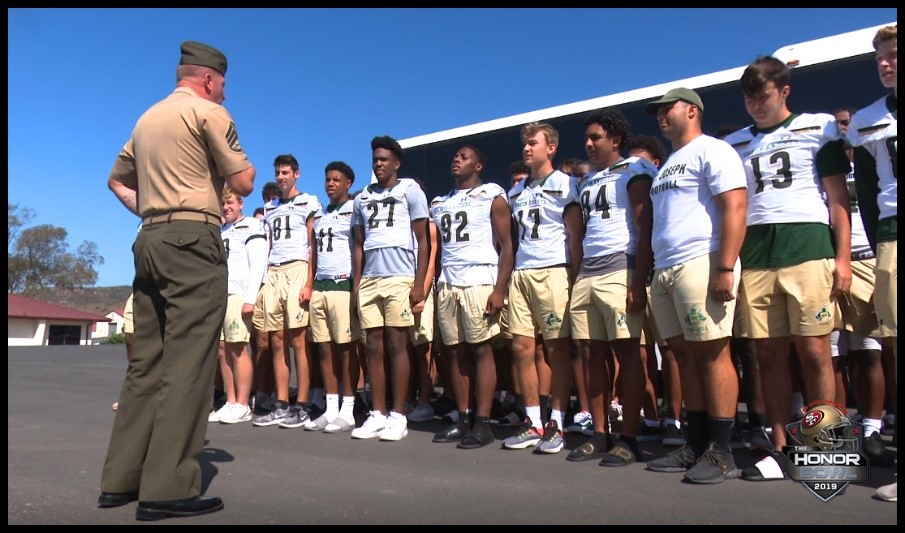 After this, players walk to a bevy of static displays and weapons that are discussed by Marines from the 5th. This is a lifetime experience that The Honor Group organizes. Both St Joseph Regional and Notre Dame opted to participate and both teams were grateful for the time that was spent behind the gates of Camp Pendleton. We feel blessed that these schools have chosen to participate in every Honor Bowl that they have been involved in.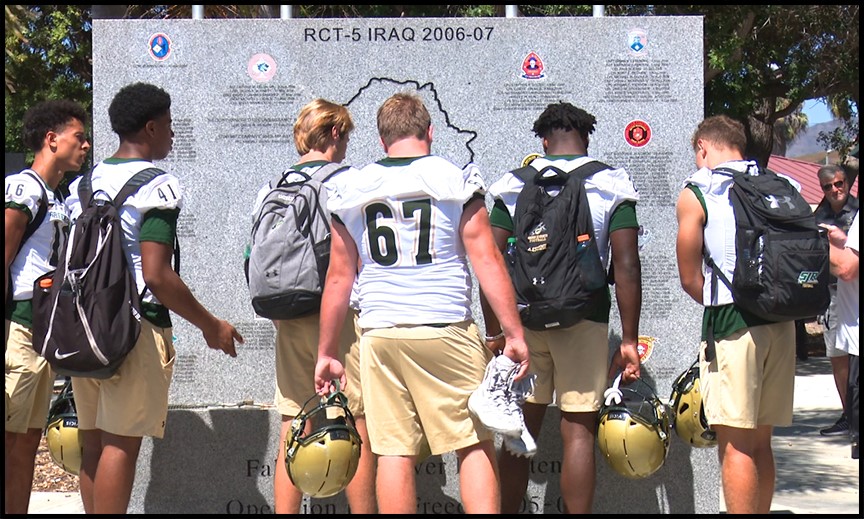 Players listen to Commanding Officers, wounded veterans and Gold Star moms that provide first hand stories about the US Marine Corps. Everyone leaves with a better understanding of the sacrifices and commitment of our Military. There is a similarity to how Marines and football players learn how important it is to do their jobs to the best of their abilities!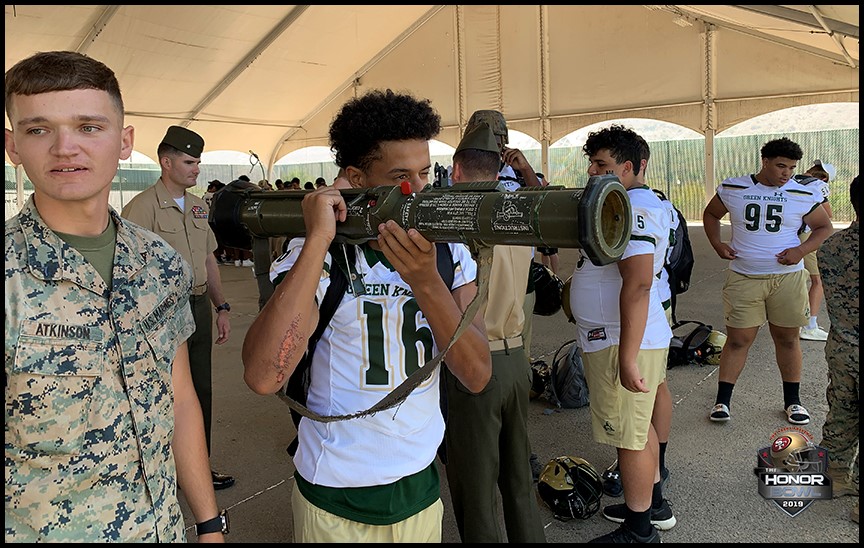 Players and Coaches had a chance to wander around the 5th Memorial Garden and look at the displays that include the Marines who gave the ultimate sacrifice for our freedoms.