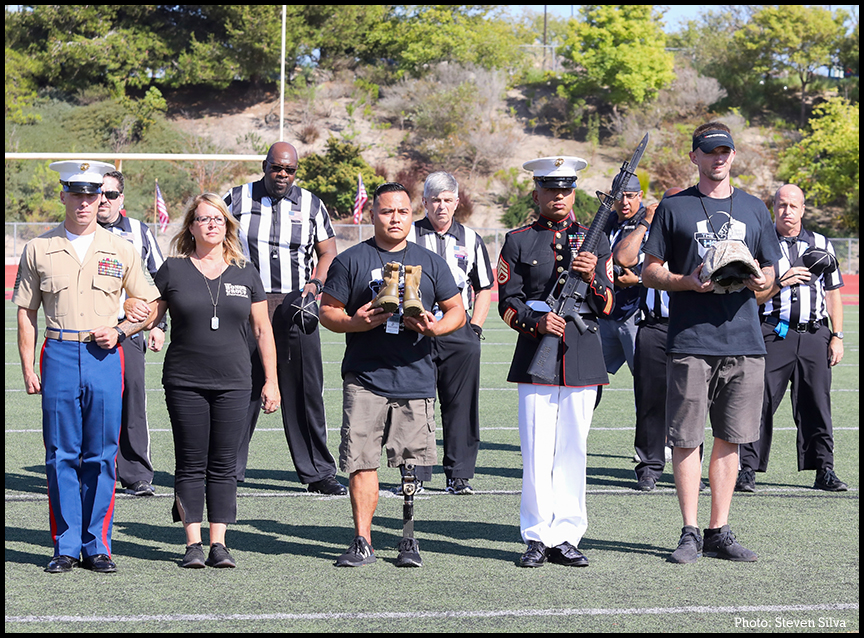 2021 SoCal Honor Bowl Game Matchups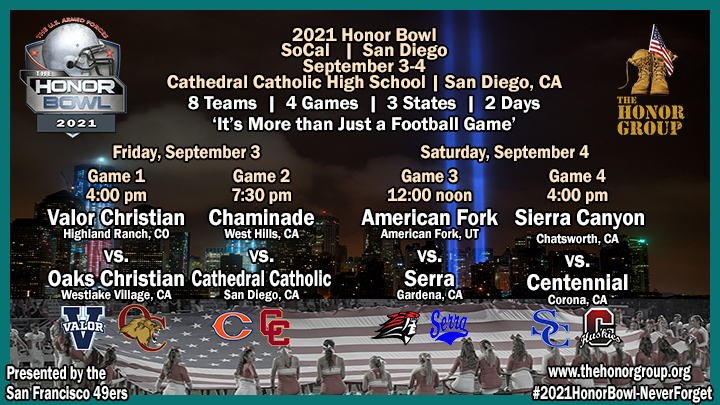 2021 Honor Bowl:             4 Games | 3 States | 2 Days

Welcome to the SoCal – San Diego Honor Bowl hosted once again by Cathedral Catholic, in San Diego, CA. The 2021 SoCal Showcase will have four games played on two days. The majority of the games pit strong Southern California programs together with games that have schools that are excited to be part of The Honor Bowl because of the educational aspect of the Showcase. Cathedral Catholic High School offers an amazing setting in Manchester Stadium in the Del Mar Heights area of San Diego. This will be the fourth time CCHS has hosted The Honor Bowl.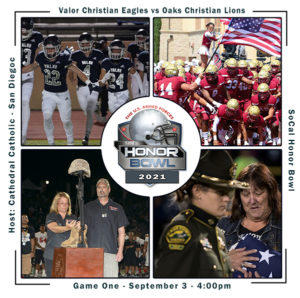 Friday, September 3 @ 4:00pm
Valor Christian Eagles (Highland Ranch, CO)  vs Oaks Christian Lions (Westlake Village, CA)
Private vs Private
The first game of the 2021 SoCal Honor Bowl brings in Valor Christian from Colorado. The Eagles Head Coach Donnie Yantis jumped to be involved with America's best High School Football Showcase. Valor Christian is currently #4 in Colorado and we are so pleased to have the Eagles be the first team from the Centennial State to play in The Honor Bowl. RB Gavin Sawchuk (Class of 2022) could easily be the #1 RB in 2021 in the nation who amassed 1786 yards and 24 TDs in 2019 who just might eclipse VC Alumni Christian McCaffrey's rushing record back in 2014.
Oaks Christian Lions are returning to The Honor Bowl who have played in 6 Honor Bowls starting back in 2012 with a 4-2 record. Newly hired Head Coach Charlie Collins led his Lions to a victory in 2018 over Eastside Catholic (WA) and knows that God knows coach is now in the right place to use his skills to lead this talented team. The Lions will have OLB Sterling Lane, WDE Mathias Malaki-Donaldson, WR Khari Butler, APB Derek Boyd, OLB Colton Antzoulatos all top 2022 national recruits.
 #PrivatevsPrivate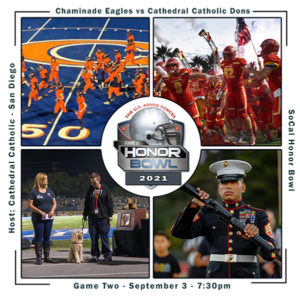 Friday, September 10 @ 7:30pm
Chaminade Eagles (West Hills, CA)  vs Cathedral Catholic Dons (San Diego, CA)
Mission vs San Diego
Game Two of the 2021 SoCal Honor Bowl will be an electric Friday Night High School before a home crowd in Del Mar Heights.
Chaminade travels to San Diego from West Hills and will be in the Eagles will be in their first Honor Bowl. Head Coach managed to adjust the schedule to have a chance to play Cathedral Catholic for the first time. The Eagles compete in the tough Mission League and will have RBs Tyler Garcia and Noah Elliott will continue churning yards for the Eagles. The Eagles have three QBs: Senior Amari Powell, Sr QB Jake Masias, Jr QB Indiana Wijay. WR Ian Duarte led the Eagles in receptions and TDs and will be a factor for success for the Eagles. WR Joshua Powell and Josh Mailanger should have a good season for the Eagles. OL Isaiah Estrada has many offers and is definitely a player to watch.  DB Ruben Gamboa was a force on the defensive side. Victor OLB and John MLB Crawshaw will stuff the middle along with two-way LB RB Luis Hernandez.
Cathedral Catholic continues to be the host of The Honor Bowl and we are so excited to bring this national showcase back to Manchester Stadium. Coach Sean Doyle will continue to prep the Dons to continue as a top team in the San Diego area. Senior Charlie Mirer QB will be the leader of an explosive offense that will feature Lucky Sutton RB. On the defensive side of the ball watch for Harmon Savainaea OLB
Game Two of the 2021 Honor Bowl will be a packed stadium experience.
#MissionvsSanDiego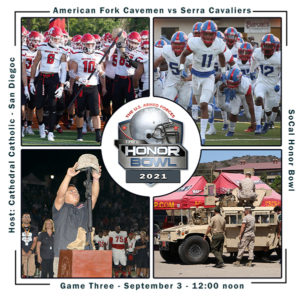 Saturday, September 4 @ 12:00pm
American Fork Cavemen American Fork, UT) vs Serra Cavaliers (Gardena, CA)
Cavemen vs Cavs
Day Two of the 2021 SoCal Honor Bowl will pit the Cavemen vs the Cav-men claimed Serra Head Coach Scott Altenberg. American Fork's Head Coach Aaron Behm recognized when invited to play in The Honor Bowl, he realized this would be an amazing opportunity for his team to experience something beyond just a great game. American Fork's QB Maddux 'Mad dog' Madsen, #1 in Utah, will light up the field. RB Cache Abo & WR Fisher Ingersoll will help on the Offense side. OLB Noah Moeaki, a three-star commit to BYU will lead his team to get back the ball.
Serra Gardena has been in 7 Honor Bowls and played back-to-back games in NorCal and SoCal in 2018!  Coach Altenberg replied within a minute by saying YES to the invite for 2021. The Cavs are well-coached, play in a tough SoCal league and always schedule quality games. Serra will have two QBs Justin Martin and Maalik Murphy along with w stellar RB/WR Elijah Davis. For WR, Devin Ford should pull down some yards for the Cavs.
Game Three of the 2021 Honor Bowl: Utah Cavemen vs California Cav-men
#CavemenvsCav-men
Saturday, September 4 @ 4:00pm
Sierra Canyon Trailblazers (Chatsworth, CA)  vs Centennial Huskies (Corona, CA)
Power vs Power
Game Four of the 2020 Honor Bowl will be the first time these two programs have met though have a strong history. There is mutual respect for these two storied programs and the finale for the SoCal Honor Bowl should be another memorable game.
This will be Sierra Canyon's first time to experience The Honor Bowl. Head Coach Jon Ellinghouse was pleased that his schedule had an opening for 2021 with a great matchup. The Trailblazers are one of the top teams in California and we are HONORED to have them in The Honor Bowl! Senior RB Jason Jones should tear up the field as he has done since his Sophomore year. FS Kamari Ramsey will be a force to stop the Sabercats.
Centennial returns to The Honor Bowl and we are pleased to have the Huskie Nation back. One of the nation's best Public School Football Programs, Centennial is led by Matt Logan, one of California's winningest coaches. This will be a quality matchup with The Honor Bowl's tradition of a strong military presence and an educational experience.
#PowervsPower – Two quality football programs playing for the Troops – and more!
Saturday September 12 @ 7:30pm
Liberty Patriots (Bakersfield, CA) vs Clayton Valley Ugly Eagles (Concord, CA) 
Central Valley vs East Bay
Game Five of the 2021 Honor Bowl a glorious finale for a two-week, nine-game Honor Bowl National Showcase.
The Visiting Liberty Patriots travel to NorCal from Bakersfield to finally be in the Honor Bowl. They had been scheduled to play in 2020 in SoCal and were of twenty teams saddened that the event was canceled. Head Coach Bryan Nixon was adamant to be part of the showcase in 2021 and we are pleased they will have the opportunity to experience why The Honor Bowl is 'more than just a football game!'
Home team Clayton Valley will be in The Honor Bowl for the third time. Head Coach Tim Murphy thanks us for another opportunity to play in 'one of the best showcases' he has ever been part of! In 2019, the Ugly Eagles season became the CIF-NCS DII Champions, DII NorCal Champions and finished the season as the CIF D2-AA State Champions. Clayton Valley only allowed an average of 10 points a game throughout the playoffs with only 2 turnovers in 5 games.  Head Coach Tim Murphy was voted Bay Area Coach of the Year and has strong returners from the '20 season.
 This is the third of three games that will have a strong patriotic presence especially with the 20th anniversary of 9/11.
 #CentralValleyvsEastBay