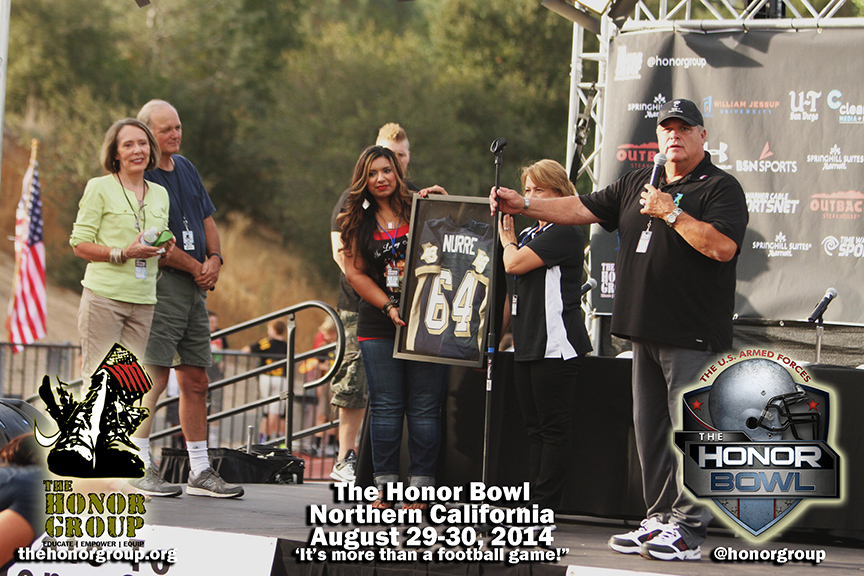 Pictured above Former Head Coach Mike Clemons of Elk Grove HS tells the crowd that Sgt. Joseph C Nurre's retired jersey will be presented to the parents, Leigh and Charlie Nurre at the 2014 NorCal Honor Bowl. Nurre graduated from Elk Grove in 2001 and joined the Army Reserves. He was KIA August 21, 2005. Gold Star parents Patty Schumacher and Hope Ramirez hold the framed Jersey. This is another heart felt example of why The Honor Bowl is 'More than just a football game!"
The Honor Group is holding the 3rd Honor Bowl in Oceanside, CA on September 4-5  where the two day event has been touted as one of the strongest lineups in the nation. Oceanside High School will be a host where fans will feast on a plethora of talent by storied football programs wanting to participate in The Honor Bowl, a life changing event.
Both days will have a Military Expo and other sponsor booths to add value to the festivities. There will be parachutists bringing the game ball, a Military Color Guard and so much more.
Mark your calendars now to attend what will be one of the best displays of high school football in the country. Winning is always important for any program but every coach that has been participated in the event leave understanding why the event has a motto: "It's More than Just a Football Game!"